BC High Performance Pathway
The Gymnastics BC High Performance Pathway is the name given to our provincial talent development program. It refers to the section of the sport which is devoted to the pursuit of excellence and achievement of medals at the highest national and international level.
The goal of the program is to identify and support athletes and coaches who aim for national and international excellence in their chosen discipline. Funding for the program is provided by GBC and viaSport.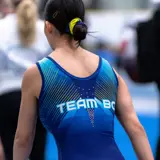 The High Performance Pathway program focuses on the development of gymnasts through increased training opportunities and professional development for coaches. It is very specific to the needs of the discipline while ultimately focusing on developing High Performance gymnasts on their journey to Canadian and international success.
The program caters to the 3 Olympic disciplines:
Men's Artistic Gymnastics
Women's Artistic Gymnastics
Trampoline
The High Performance Pathway continually strives to work towards the following goals:
Further support athletes who have reached the Elite level
Increase talent development opportunities for young gymnasts to allow for ongoing monitoring of development
Sustain the number of the exceptionally talented gymnasts entering the higher competitive levels
Facilitate the transfer of the gymnasts into the Elite Pathway
Support coaches in their role of nurturing talented athletes and future champions
Further develop the technical expertise of coaching across BC, sharing current and innovative practices
Broaden the quality of the talent pool by reaching out to gymnasts and coaches who want to learn
Targeted list of athletes and coaches:
The targeted list includes all athletes who have met the qualification standards in the previous year as written in each discipline's Policies and Procedures manual. The list is updated in August and is valid from September 1 to August 31. The list is submitted to viaSport and to the Canadian Sport Institute Pacific (CSI-P).
Once the athletes and coaches have been identified, they can register with the Canadian Sport Institute Pacific and be eligible to receive additional services from the CSI office closest to their home.