Trampoline Gymnastics (TG)
Trampoline gymnastics is a thrilling and gravity-defying discipline within the world of gymnastics. It revolves around the execution of acrobatic maneuvers on a trampoline, where athletes perform intricate flips, twists, and somersaults with remarkable precision and flair.
Trampoline gymnastics combines athleticism, aerial skills, and artistic expression to create a visually stunning and captivating sport.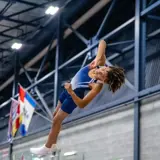 CanJump Program Resources
The CANJUMP Program is intended for use with participants of varying abilities to teach the basics of trampoline and tumbling in a fun, challenging, and rewarding atmosphere.
CANJUMP is divided into 12 levels on different apparatus with emphasis on individual development and progression.
The program is designed for participants that are 6 years of age or older. Participants starting at an older age may be evaluated to begin at a higher level, provided they can safely perform all skills in the lower levels.
Technical Resources & Rules
TG Technical Committee
A group of incredible volunteers make up the TG Technical Committee. They are an advisory committee to GymBC.
TG Chair: Jill Drake
Vice Chair: Tanya Liquorish 
Coaching Chair: Jake Maxim
Judging Chair: Karen Yendley
Athlete Representative: Moja Bonham
Member at Large: Devena Steinmann
Member at Large: TBC
Provincial Program Advisor (non-voting): Jason Burnett
TG Competitive Program Coordinator (non-voting): Sandra Poelzer, and Debbie McBoyle - until Dec 31, 2023