Women's Artistic Gymnastics (WAG)
Women's Artistic Gymnastics (WAG) is GymBC's largest competitive discipline. Gymnasts typically compete on four apparatuses – vault, uneven bars, balance beam, and floor exercise. The BC WAG program includes Canadian Competitive Program levels 1-10, High Performance Senior, Junior, Novice, Aspire, and Xcel (Bronze, Silver, Gold, Platinum, Diamond).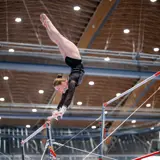 WAG Technical Committee
A group of incredible volunteers make up the WAG Technical Committee. They are an advisory committee to GymBC.
Chair: Jesse Jakins
Vice Chair: Chris Sheremeta
Judging Chair: Lisa Laundry
Athlete Representative: Laura-Ann Chong
Member at Large: Jennifer Dober
Member at Large: Nancy Beyer  
Member at Large: Saskia Berndt
Member at Large: Tiffany Tse
Member at Large: Heather Ivanitz
WAG Program Coordinator (Non-Voting): Momona Komagata
Provincial Performance Advisor (Non-Voting): Jared Goad