About Us
Gymnastics BC (GymBC) is a non-profit organization that delivers competitive and recreational programs for the sport of gymnastics in British Columbia. We are responsible for the governance, promotion, and development of gymnastics in BC and are dedicated to making gymnastics an accessible sport for all. Established in 1969, we are committed to providing exceptional support and services to our member clubs.
As the fourth largest Provincial Sport Organization (PSO) in BC and the third largest gymnastics PSO in Canada, we actively work towards fostering the development of gymnastics in BC and offer support to athletes, coaches, judges, and parents.
Our association is membership-based, with a Board of Directors led by a membership-elected president and vice-president. We also have three standing committees, which support the work of the Board of Directors, and four technical committees, which are each responsible for the technical regulations, programs, and services for each discipline including men's artistic gymnastics, women's artistic gymnastics, trampoline gymnastics, and Gymnastics For All.
For more information about the work we do and our vision for the future, check out our Strategic Plan.
Our Vision
A provincial leader in the delivery of quality foundational and high performance programs and services that foster lifelong sport participation.
Our Mission
Positive and diverse gymnastics experiences for province wide participation at all levels.
Our Values
Excellence. We conduct our activities at the highest possible standards.
Leadership. We are recognized as an organizational leader within the British Columbia sport community and Canadian gymnastics community.
Transparency. We disclose information, opportunities, and decisions in a clear, open and accessible manner.
Ethical. We ensure a safe environment for all gymnastics participants, encourage fair play and adherence to the spirit of the rules.
Professional. We establish and pursue educational opportunities that will allow our gymnastics community to grow and prosper.
People. We recognize, support, and celebrate the contributions and successes of our athletes, coaches, officials, volunteers, club members, and staff.
What We Do
As a provincial body, Gymnastics BC delivers competitive and recreational programs and services for our members. We are committed to supporting the gymnastics community in the province and making participation easy and safe.
While supporting our members, we:
train and certify high-quality coaches and judges,
ensure that gymnastics remains an inclusive and accessible sport,
provide safe opportunities for our esteemed athletes, and
help athletes succeed in gymnastics, and in life.
If you would like to learn more about our team, please read our staff bios.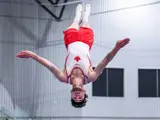 How We Are Funded
Gymnastics BC is primarily funded through member fees and grants from the Government of BC.
Member fees are received by full member gymnastics clubs as part of their annual registration. Each club then submits individual member fees for all of their participants. Other fees are collected for participation in GBC events and competitions and sanctioning of club invitationals.
We are very fortunate to receive funding through a number of Provincial Government Grants, which we apply for annually. Grants are applied to our programs and focus on generating increased participation, coach development, high performance athlete support, and community event support.
Additional funding comes from:
Sponsorship,
Donations, and
Private and Public Sector Grants.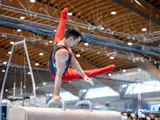 Association Profile
Primary activities:
Participation Development
Athlete / Leadership Development
Membership Development
Services and Resources
Board of Directors:  
We have ten directors, who are both elected by Gymnastics BC's membership and appointed by the Board of Directors on two-year terms at the Annual General Meeting and Technical Assemblies.
Staff
Full-time: six (as of September 2019)
Part-time: six (as of September 2019)
Provincial Advisory Committee (PAC):  We have eight zone directors. Each of our regional zones is chaired by a PAC member which chairs zone meetings and meets with other PAC members.
Office: 268-828 West 8th Ave, Vancouver, BC, V5Z 1E2
Annual budget: $2.1 million (approximately)
Founded: 1969