Team BC
Welcome to the world of Team BC! Team BC is not just a collection of individuals; it's a thriving community that embodies the spirit of dedication, passion, and exceptional talent in the world of gymnastics. Our athletes represent our province with utmost skill and commitment. Every member of Team BC is meticulously chosen by their discipline's technical committee. Members of Team BC travel and train together, competing at prestigious competitions including but not limited to the Canadian Championships, Western Canadian Championships, and the Western Canada Cup.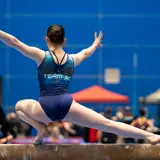 Gymnastics BC and Gymnastics Canada also address coach and official education through NCCP courses and education opportunities.  
Gymnastics BC selects athletes to represent B.C. at a variety of events each season. These include Canadian Championships, Western Canadian Championships, Western Canada Cup, Canada Winter Games, Western Canada Summer Games and other national and international events.
These athletes compete as a member of Team BC, wearing the official uniform and taking part in team activities.