About BC Gymnaestrada
The BC Gymnaestrada is held annually each spring and is the largest recreational gymnastics event in British Columbia. Gymnaestrada is a unique form of participation in gymnastics by anyone of any age or skill level. It's main focus is on mass participation and performance in gymnastics.
The goals of Gymnaestrada are to promote and encourage the growth of Gymnastics for All, inspire and encourage joy in exercise and to demonstrate the development of the participants.
Offering workshops, performance opportunities and fun, it is a two or three-day event attended by 500 or more participants from throughout B.C. Additionally, groups from other provinces have been known to participate in this special event.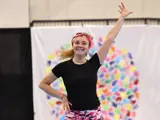 Hosting BC Gymnaestrada
The BC Gymnaestrada offers a unique opportunity for full member clubs to be actively involved in planning and coordinating this weekend event. In addition to helping grow and enhance the event, the BC Gymnaestrada may benefit your club by:
Raising your profile amongst gymnastics providers;
Showcasing your club and community;
Establishing a collaborative relationship with Gymnastics BC; and
Raising funds for your club.
New ideas and initiatives are encouraged to continue to expand the scope of the BC Gymnaestrada. Hosting is a 50/50 format; Gymnastics BC manages the organization of the BC Gymnaestrada in conjunction with the club host. In order to plan and execute a successful BC Gymnaestrada, host clubs should be:
Highly organized and cooperative;
Willing to collaborate with Gymnastics BC;
Able to dedicate 10-11 months of planning leading up to the event;
Child focused;
Passionate about recreational gymnastics and the Gymnastics For All philosophy; and
Able to assemble and manage a team of parent and/or community volunteers and committee members.
Interested in learning more? Check out the Gymnaestrada Hosting Guide (linked below) and/or e-mail the Recreation Program Manager.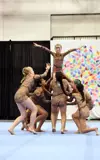 2025 & 2026 Applications
We are accepting applications to host the 2025 & 2026 BC Gymnaestrada Events. Click our link below to start your application!
Performance Opportunities
In addition to performance opportunities at club and community events, Gymnastics BC hosts an annual BC Gymnaestrada each spring.
In partnership with a member club, the BC Gymnaestrada is the largest recreational gymnastics event in the province.
During the weekend, gymnasts participate in exciting workshops and perform their routines for their family, friends and community. 
There are also Western, Canadian and World Gymnaestradas held every four years.
Registration
In B.C., participants must be six years old by December 31 of the current season to participate in Gymnaestrada.
Gymnaestrada participants with GBC member clubs must be registered as individual participants with Gymnastics BC. They may be registered as recreational, Interclub or competitive athletes.
How To Set Up A Gymnaestrada Program
For more information on starting a Gymnaestrada/performance program, please contact the GFA Chair or the Recreation Program Manager.